Benefits
Choose Your Version
SQL server version 2012-2019. Dev/Standard/Enterprise.
No Vendor Lock-in
Regular SQL server means you can easily take your data anywhere you want.
Full SQL Server Functionality
Regular version of SQL Server. Full functionality, performance and controls.
Secure Dedicated Servers
We offer fully dedicated servers. BIOS flashed, fresh OS install.
Performant Backups & Restore
Backups/Restores in minutes, not hours. Not limited by 75Mbps log writes.
Performance Optimized
Custom servers with NVMe storage, 4-Core 32GB RAM to 100-Core 4TB RAM.
Sample Pricing Performance | Value | Reliability
SQL PKG 1
Small Dev, Staging & Production
Qty 1: 8 vCore/64GB/2x256GB SSD
Qty 3: 8 vCore/128GB/2x400GB NVMe SSD
Redundant 20Gbps Internal Network
Redundant 1Gbps Azure Network*
Expert US Support
100% SLA
Save Additional 20-30% with 6 or 12 month agreement
SQL PKG 2
2 HA Clusters for internal applications
Qty 2: 16 vCore/256GB/6x256GB SSD
Qty 2: 16 vCore/384GB/4x1.2TB NVMe SSD
Redundant 20Gbps Internal Network
Redundant 1Gbps Azure Network*
Expert US Support
100% SLA
Save Additional 20-30% with 6 or 12 month agreement
SQL PKG 3
Large SaaS with OLTP, Reporting, SSIS and BI
Qty 4: 8 vCore/64GB/2x256GB SSD
Qty 8: 32 vCore/512GB/4x15.4TB NVMe SSD
Redundant 20Gbps Internal Network
Redundant 1Gbps Azure Network*
Expert US Support
100% SLA
Save Additional 20-30% with 6 or 12 month agreement
Performance & Scalability, Save up to 90%
8C8's Managed SQL provides up to 10X the performance of Azure SQL at savings of...
Read More
up to 90%. One of Azure SQL's selling points is its performance and scalability, supposedly reaching 200K IOPS (@ 64K), a staggering 12 GB/s of IO.  Unfortunately, it doesn't come anywhere close to that performance or scale in the real world.  You can find many articles, such as this one by Brent Ozar about Azure SQL's limitations.  8C8's solutions have no such limitations and can be configured with up to 7GBps log throughput and more than 100K real 64K IOPS at < 2ms latency.  Not to mention configurations with Terabytes of memory.
Licensing and Performance Optimization
8C8 started optimizing SQL Server workloads using PCIE SSDs (FusionIO) back in 2011.
Read More
With NVMe and SAS SSDs getting faster and cheaper, most SQL Server workloads can benefit from our Software-defined-storage (SDS) to gain significant performance gains from traditional SAN/HD/SSD solutions.  Utilizing multi-instance and containerization technologies also lets 8C8 reduce effective licensing costs.  While some use cases can benefit from SQL Server Enterprise, the fact is that the majority of workloads can utilize SQL Server Standard on our optimized Hardware and Software stack.
Fully Managed Secure Enterprise Solutions
8C8 works with clients to build out an appropriate migration and consolidation plan to...
Read More
get the client the best combination of performance, scalability, security, reliability and cost.  From planning and install to our fully managed backup/restore and proactive performance monitoring services, we can provide a great solution without requiring client's invest heavily in DevOps.  In many cases we can also upgrade servers the same day to more cores, memory or storage.  Servers dedicated to you also means better security from Firmware, Processor, Driver and OS CVEs, and eliminate noisy neighbor issues that plague cloud provider solutions.  Using Enterprise drives with Power Loss Protection also ensures that you don't lose data.  Many competitors like to advertise low prices, but use consumer hardware that could leave you with a corrupt, unrecoverable database.  Our software-defined storage utilizing Enterprise hardware provides excellent performance and reliability at a cost that is significantly lower than SANs.
SQL Server Consolidation and Containerization
While many server workloads benefit from virtualization for consolidation, 8C8 uses...
Read More
SQL containerization and multi-instance support to provide consolidation.  8C8's approach results in significantly better performance, lower licensing costs and nearly unlimited options optimized to your SQL Server workloads.  While Azure SQL has 100s of configurations, most are very limited in terms of IOPs, storage capacity and memory configurations, resulting in wasted SQL Server instances or inefficient configurations on one or more dimensions.  While clients can save up to 81% by switching 1-for-1 from Azure to 8C8's comparable instances, clients can save even more by working with 8C8 to further consolidate SQL Server database workloads.
Full SQL Server Features v. 2012-2019
With full SQL Server functionality, clients have options for SSRS, SSIS, Analysis Services, SQL Agent and...
Read More
other standard SQL Server features.  Unlike Azure's many SQL offerings, 8C8's Managed SQL solution can run your full SQL Server workload without requiring you to convert or re-architect your solution.
Azure Cloud Network Integration
With 8C8's Azure Hybrid Network you get the best of all worlds, fully optimized...
Read More
Managed SQL Server and low latency/high bandwidth/redundant connectivity to Azure for Cloud Hybrid solutions. Migrating to Azure, migrating from Azure, and hybrid cloud solutions have never been easier.  For even more savings and better performance, clients can use 8C8's Azure Hybrid Servers for workloads that aren't fully cloud optimized.
Benchmark Results 8C8 SQL vs Azure SQL To compare Azure offerings vs 8c8 Managed SQL, we used 2 benchmark tests that are publicly available and easy to reproduce and verify
Benchmark 1: HammerDB
HammerDB is an open source TPC-C like database benchmarking utility.  We tested using 100 warehouses (approx. 10GB) and 100 Virtual Users.
We tested two 8C8 configurations, one was an instance of SQL on a high-core server to simulate SQL consolidation scenarios.  The second an optimized low core dedicated configuration.  Both included 4 mid-range enterprise NMVe drives and 64GB of memory.
For Azure we tested a single elastic database using different tiers of vCore and DTU models.  All but the Business Critical instances are similar in price to 8C8's 8vCore offering, while the Business Critical tier is about 3X the price.
The results are impressive: 8C8 Dedicated is 3.6X the performance of Azure BC 8 vCore at a 76% price discount.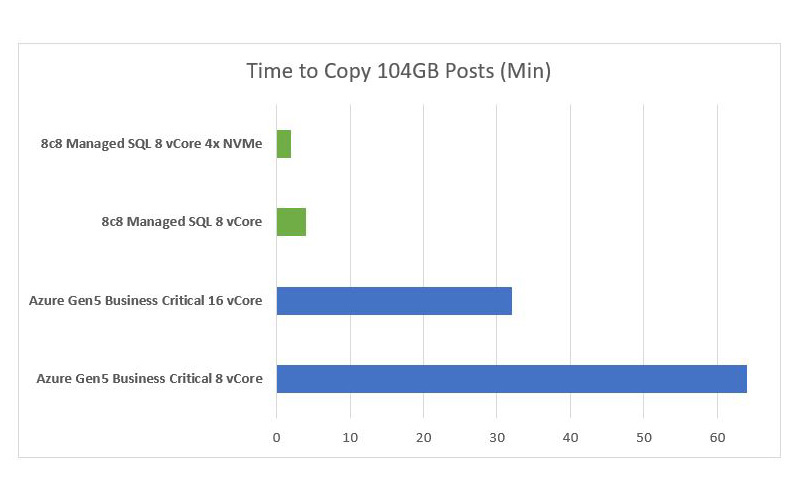 Benchmark 2: Copy 104GB of Stack Overflow Posts
Stack Overflow is a well known Q&A site that provides their data for others to use.  Brent Ozar has been kind enough to create a SQL Server version of that data.  Brent Ozar also provides some benchmarks with that data on Azure that we have referenced below.  The benchmark is a fairly straightforward copy of 104GB worth of posts into a new table.
For the 8C8 runs we tested using two configurations.  The first configuration is 8 vCores with 2 RAID1 NVMe drives, while the second configuration uses a single RAID1 NVMe configuration.
The result shows that 8C8 performance is 8-31X faster than Azure SQL at a 50-81% price discount to Azure SQL.